We have a wide variety of garden workshops and sheds for sale. Small to large, we have what you need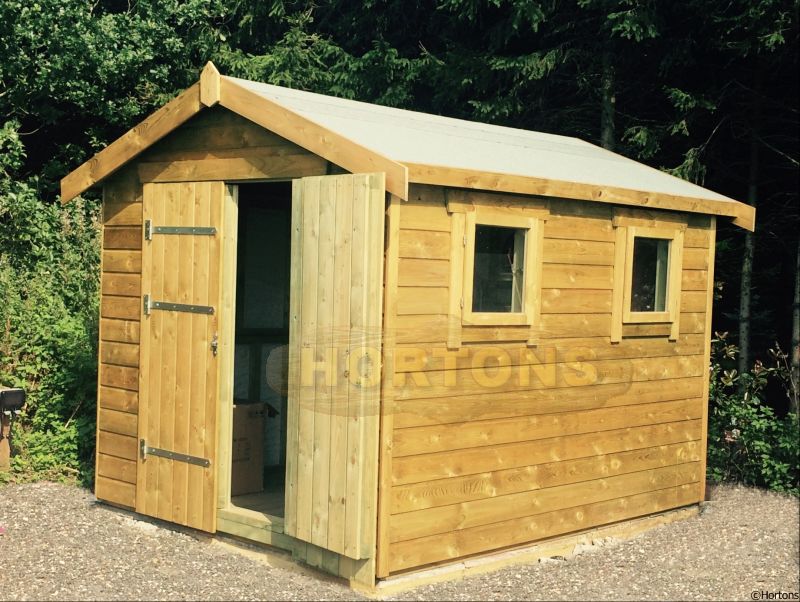 Shed showroom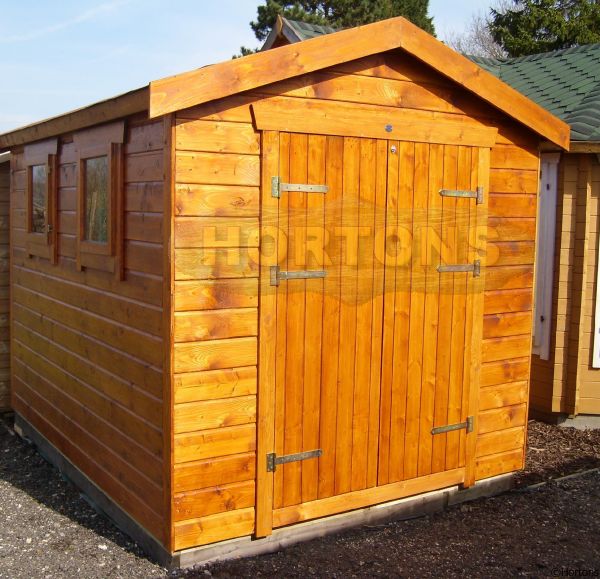 We sell garden workshops as well as apex sheds and pent sheds with plenty on display in our showground near Horsham, West Sussex. The Shedlands sheds and workshops include free installation as well. These are framed buildings where cladding is nailed to a framework. Garden workshops are ideal for home working and large volume storage sheds. We also have a number of sheds for sale of the same size which may have varying prices. This could be because they have different configurations of doors and window. But it is more likely that they are of different qualities. As with everything in life, you get what you pay for!
Quality of build
We offer a variety of sheds with different build qualities, this reflects on the strength and durability of the garden workshops and sheds. A few points to note as you peruse our ranges -
The framework is the backbone of the building - the bigger the framework, the stronger the building.
There are 3 main external claddings, featheredge (sometimes called weatherboard), shiplap and loglap. Weatherboard is the cheaper of the two and is a rough triangular shape sawn board, each plank overlaps the previous board to make it waterproof. Shiplap, however, is a smooth board which has an interlocking joint such that it is not only waterproof but also draft proof, normally making a better building. Loglap is effectively a thicker shiplap that has a more rounded face to give a log-roll type of effect.
The roof and floor possibilities (in order of preference) - solid tongue and grooved timber, OSB strand board or moisture resistant chipboard.
The doors choices are framed, ledged and braced, ledged and braced or just ledged (be careful with ledged only doors as they tend to drop after a period of time)
Windows can be toughened glass, float glass or acrylic/perspex.
Wooden Garden Sheds
We build our wooden sheds to stand up to the harsh British weather. All of our wooden garden sheds are as weather-resistant as possible. So whatever you store inside one of our garden sheds, it will be safe, and dry.
Sheds including delivery and installation
Our new range of Shedlands sheds are excellent value for money. They are high quality but very cheap prices. Shedlands are a long established company making sheds for decades, offering a huge range of garden buildings. And all of their buildings include delivery and erection. This shed range has everything from basic garden sheds up to heavy duty garden workshops and everything inbetween - Shedlands garden buildings can also be made to measure and bespoke. The Shedlands range has it all including a tanalised options for all of its buildings for a long lasting 15 year protection against rot. We have a number of these sheds on display in our Horsham display site, including some of the Shedlands summerhouses as well.
Garden Workshops
Our workshop sheds are much more heavy duty than a standard shed. They have bigger and stronger framework, stronger and taller door(s), more choice regarding windows and not forgetting they are taller overall as well - no ducking required when your inside one.
Cladding
There are various choices of cladding style as well as cladding thickness -
Weatherboard / Featheredge - these are triangular section boards (usually rough sawn) that overlap each other giving a riven / staggered finish inside (not a smooth surface).
Shiplap - these are "scalloped" boards and can be a rebate pattern or a tongue & groove pattern. Both give a smooth finish inside.
Loglap Type - These are the same patterns as shiplap but they have a round outside surface to give a "log roll" type of look to the building.
Treated Garden Workshops and Sheds
Timber Sheds and Workshops can be -
Dip Treated - the whole panels are dipped into a large vat of preservative. This means all surfaces of the timber absorb the treatment (including the "unseen" parts).
OR
Pressure Treated - The timber is put in a large vacuum vessel to draw any moisture out. Following this, the preservative (usually Tanalith) is added into the vessel which releases the vacuum and the timber sucks the preservative deep into the grain of the wood. This ensures a long timber life and will need less maintenance.
Metal Sheds - these may need less maintenance but they are prone to condensation (due to their cold surfaces over night). This can cause real issues with whatever you are storing inside them, leading to mould or rust. This is why we don't sell this type of shed.
Plastic Sheds - again, little maintenance but they are very flimsy. They are not very secure and can wobble around in strong winds. We only sell strong garden buildings, therefore we do not sell plastic sheds.
Uses For A Garden Shed
A shed outdoors can be ideal for storing garden tools and garden equipment. With so many garden sheds for sale, you can find one in our range that is perfect for your storage needs. Or making it your shed workshop for your hobbies and projects around the house.
A garden workshop is much more versatile. You can use it for almost anything because it is taller, much stronger and has many options including insulation. Make it a garden office or a workout space. Or even a man cave with some bar stools, a mini-fridge and a bar!
4.5 x 3m 44mm log cabin with side log store
Not all sheds or workshops need to be framed buildings of course. This is a 4.5m x 3m garden cabin with 45mm thick wall logs. The main cabin is to be used as a garden machinery storage shed. It has an additional eaves roof canopy for use as a log store on the side. Thus achieving 2 uses in one garden outbuilding. It also has "Onduvilla" roof tiles for a long lasting and attractive finish.