Residential log cabin houses - insulation is the key factor! Warm multi-room log cabins to live in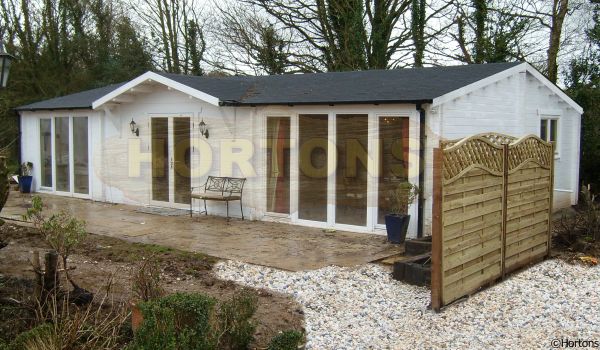 We have a range of residential log cabin houses to live in for sale which have been specifically designed for that purpose. Each design complies with the appropriate regulations for residential log cabin park homes / mobile homes. This is the minimum. But they can then be upgraded to fully comply with UK building regulations for permanent habitable use. This usually just means thicker insulation.
The designs are not fixed and you can alter them to suit your own needs. Or even design from scratch. Please feel free to contact us for more details.

Don't just believe a cabin salesman!
It is essential that you find a log cabin supplier who can actually prove their log cabin houses meet the insulation values required to comply with Building Regulations. Just saying "they probably do" or "we think so" doesn't really fill you with confidence! Single skin cabins WILL NOT comply regardless of what the salesman may say. Learn more about U values, what they mean and how that relates to insulation values of a log cabin
Design your own home that is eco-friendly and won't break the budget.
We only offer new log cabin homes for sale. But you will find that our prices for these compete favourably with any used residential log cabins for sale that you may find. Plus you have the added advantage that you can design the inside as you see fit rather than settle for what is available.
Options
It is also worth pointing out that we don't have sited residential log cabin houses for sale in the UK either. So you would need to find the land either with the relevant permissions. Or apply for these once you have bought the land. It is not easy to get permission for a 2 story log house (but it is possible). Permission for a single story house is much easier. The other option is for a mobile log cabin house which complies with The Caravan Act. Different rules and regulations apply to these buildings which can make it easier to gain permission to site one of these on your land.