Hortons Timber Framed Buildings - Heavy duty framed buildings for all occasions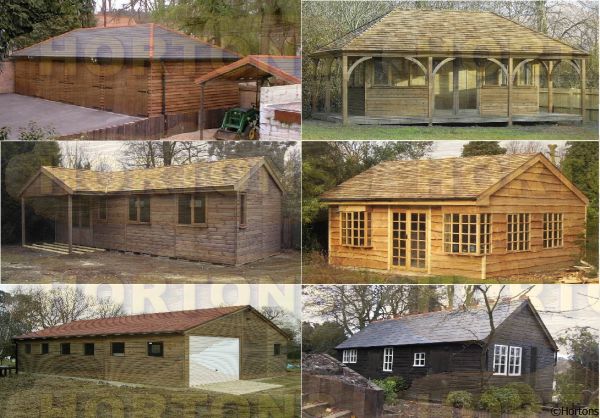 Timber framed buildings usually comprise of heavy duty framework which is then covered by cladding, which doesn't have to be timber cladding (feather-edge, shiplap, waney edge), but can be brickwork (modern timber framed houses are built by this method) or panels (portable cabins - commonly covered with plywood covered with render). Internal partitions are made from studwork partitions to suit what you require. The same principle applies with windows and doors - they can be any sizes and positioned wherever you like.
Construction method for timber frame buildings
These are "panelled" buildings where part constructed pieces of the timber building are brought to site by lorry. These parts are then fixed together to form the main shell of the building. Following on from this, all of the finishings (possibly including the cladding) are fitted to this structure to make it weather tight before other trades come in to make it the finished article.
Insulation
For heated timber framed buildings, it is possible to insert insulation between the stud framework and then line internally (plasterboard or tongue and grooved timber cladding are popular choices for this). There are numerous designs and styles of framed buildings, some are shown in the categories below but as with all of our ranges we can make to your design - just send us your own design to price. You can nominate what you want the building to look like with various cladding materials etc. All shapes are possible include multiple rooms and multiple storeys.
5.5m x 6m pent roof modern style timber framed double garage
This is a very modern looking garage with a fairly steep pent roof sloping sideways and vertical cladding. The personnel door is of powder coated aluminium construction and colour matched to the roller shutter door.click here to go to the timber framed double garage page