We can make combination buildings
5x3m insulated garden office with side store
This L shaped cabin is made up of 2 rooms with 2 different specifications. The main room being a 45+45mm Twinskin for use as an all year round office. The additional side store in 45mm single skin for storing garden tools and machinery.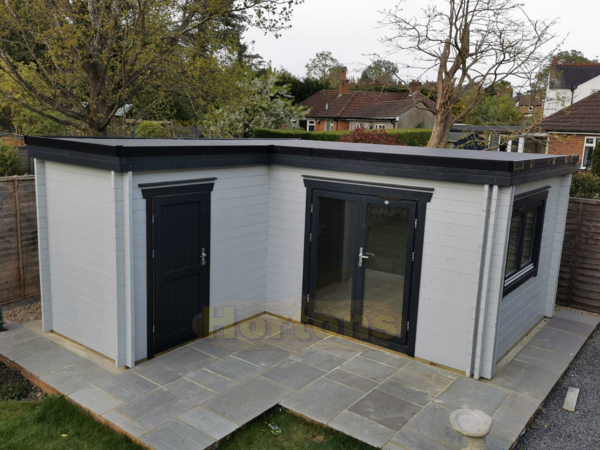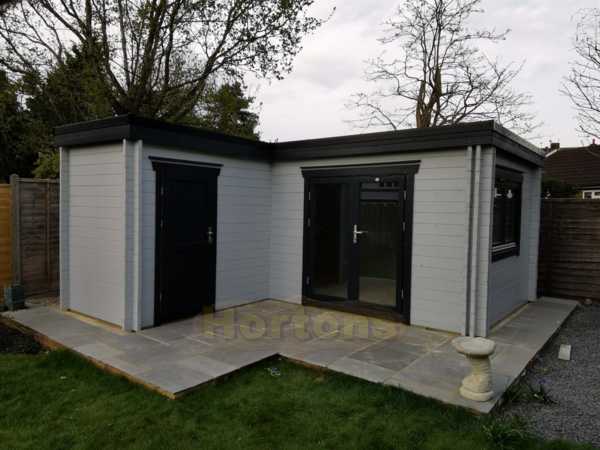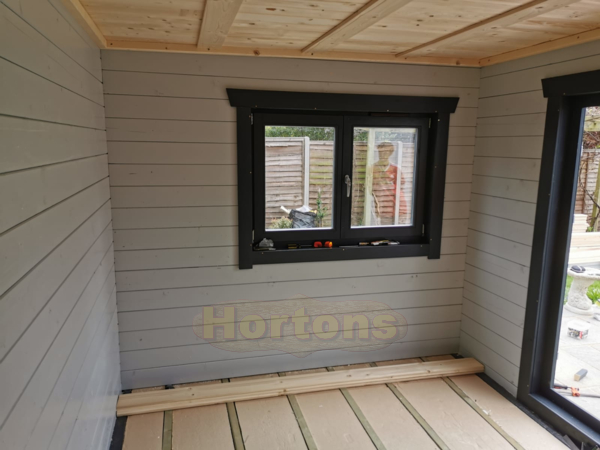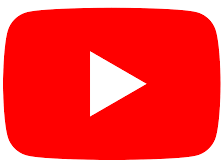 How warm does your home office need to be?
Once insulated, the walls can be the equivalent thermal value of a solid wall which is much thicker. This not only saves internal space but also materials and therefore costs as well.
PLEASE NOTE THAT NEARLY ALL OF OUR CABINS CAN BE "TWIN-SKINNED", SMALL OR LARGE, AND ARE LISTED WITHIN EACH OF OUR INDIVIDUAL CABIN PAGES WITHIN OUR MAIN "LOG CABINS" CATEGORY IN THE LEFT HAND MENU BAR. WE HAVE LISTED SOME OF THE MORE POPULAR DESIGNS ON THIS PAGE FOR YOUR CONVENIENCE.
Garden Offices UK
Seeing as a large number of people within the UK are working from home, it is not surprising to see the demand for outdoor structures on the rise as well. For this reason, Hortons Group has come forward with a range of timber buildings that can be used for anything from working in to storing excess belongings. Thanks to our 26 years of experience with timber cabins, we now sell a variety of types ranging from classic to more modern architecture. Our lengthy expertise in both designing and erecting these durable, aesthetic structures will serve you well, especially when you consider how many home offices we have installed in people's gardens throughout our lifetime. We also offer a wide range of home accessories so that you can customise your structure as you see fit. With everything from high performance double glazed thermo-glass windows to verandas, you can order a timber workplace, shed or granny flat that fits in with your needs and desires. And of course, all of these additions are built using the same quality materials and techniques as the buildings themselves so that you can end up with a structure that is pleasing on the eye as well as fully functional.
Innovative Log Cabins
To show you what we have on offer, our online catalogue provides in-depth information on all of our buildings, including specifications such as size, height and the depth of the canopy. Alternatively, you can come and visit our West Sussex display grounds for a more hands-on approach to our cabins. Here, you can personally walk around our modern and contemporary garden offices and studios to get a feel about how it would be to work or live within one. And, you may also receive a lower price as we sometimes offer discounts on display models that have minor imperfections. One useful item that we can supply you with is a raised timber base kit, which allows our customers to install wooden garden offices on sloped terrain without having to level it out first. This makes the entire construction process a lot more efficient and ensures that you can get your workplace or living quarters erected in no time at all. As you can see, we have thought of everything when it comes to getting a timber structure in your back garden as quickly as possible. This is all thanks to our innovation and experience when it comes to outdoor buildings.
Quality Structures at Great Prices
Not only do our cabins, sheds and granny flats look great, but they are also made to be as environmentally-friendly as possible. We gather all of our timber from sustainable sources so as to minimise the effect that we have on Mother Nature. We also do our best to reduce our carbon footprint, adding yet another reason why you should choose a timber building from within our collection. To find out more about installing the home offices in the garden, have a look in our terms and conditions section on our website. Alternatively, you can contact us personally via phone, fax or email. If you would like to order one of our timber structures, you can do so through our online checkout. Once we have processed the order, we can deliver your building to you for free within most areas in the UK. In addition to this, if you find a supplier of insulated garden offices who is offering a lower rate, we will do our very best to match or beat their price to ensure the sale. All-in-all, we will do everything that we can to make you satisfied with the quality of both the service and our timber buildings.